Hey dear! Is this you?

you adore Thai food, but don't always feel comfortable making it at home because maybe it's better left up to Thai cooks who are the pros? 
you feel like in order to cook Thai food you have to know all the secret magic tricks, and it would be impossible for someone who isn't Thai to learn them all?
you want to make awesome Thai food like Pad Thai at home, but have no idea where to buy tamarind pulp and palm sugar and how to make your own tamarind paste?
you've been to the Asian market all excited and left feeling overwhelmed and discouraged because you couldn't find what you needed?



If that's you, you aren't alone, I've been all of those too!
12 years ago I moved back to America from Thailand with my Thai Hubby, but had zero Thai restaurants within 30 miles of our home, and couldn't afford to pay $15 every day for Pad Thai that we used to get for $1.50 on the streets of Bangkok!
But I was head over heels in love with Thai food. So I knew I had to learn how to make it no matter how hard it would be for a non-Thai to learn all the secrets.
With the help of my Thai grandma-n-law, Thai Hubby, many online Thai chefs, and many many years of cooking Thai food and teaching Thai cooking classes now:
I confidently peruse the aisles of Asian markets and know the best Thai ingredient brands to put in my cart
I know when to use fish sauce or Thai thin soy sauce correctly and how to get my Thai food to taste like a Bangkok street vendor's
If I don't have palm sugar, I can quickly whip out a substitute for it and other Thai ingredients that are hard to find in America
I'm not Thai, but eat homemade Thai dinners at least 5 nights of the week, love cooking it for my friends, and my Thai Hubby and even my Thai mother-n-law ask for seconds of my Thai food! 
But I'm not special!
You can be on your way to confidently cooking Thai food too after taking my first course in my Thai-Foodie Academy: 
"How to find and use Thai Ingredients with confidence: The Ultimate Guide to discovering the secrets behind Thai ingredients and how to cook with them with ease!

The course is packed with printables and videos that will have you cooking Thai food at home and using Thai ingredients with confidence in no time!

"Hands down best Thai food we've ever had!"
"Hands down the best Thai food we have ever had! Sherri was extremely welcoming and her home made us feel very comfortable. The class it's self was well put together and the food was absolutely delicious. We have been to many cooking classes all over the world and this has been the best one by far. Couldn't recommend more whether your a Thai fanatic or a newby Sherri makes Thai food relatable and easy!"
Andy, Thai cooking class student, Nov. 2019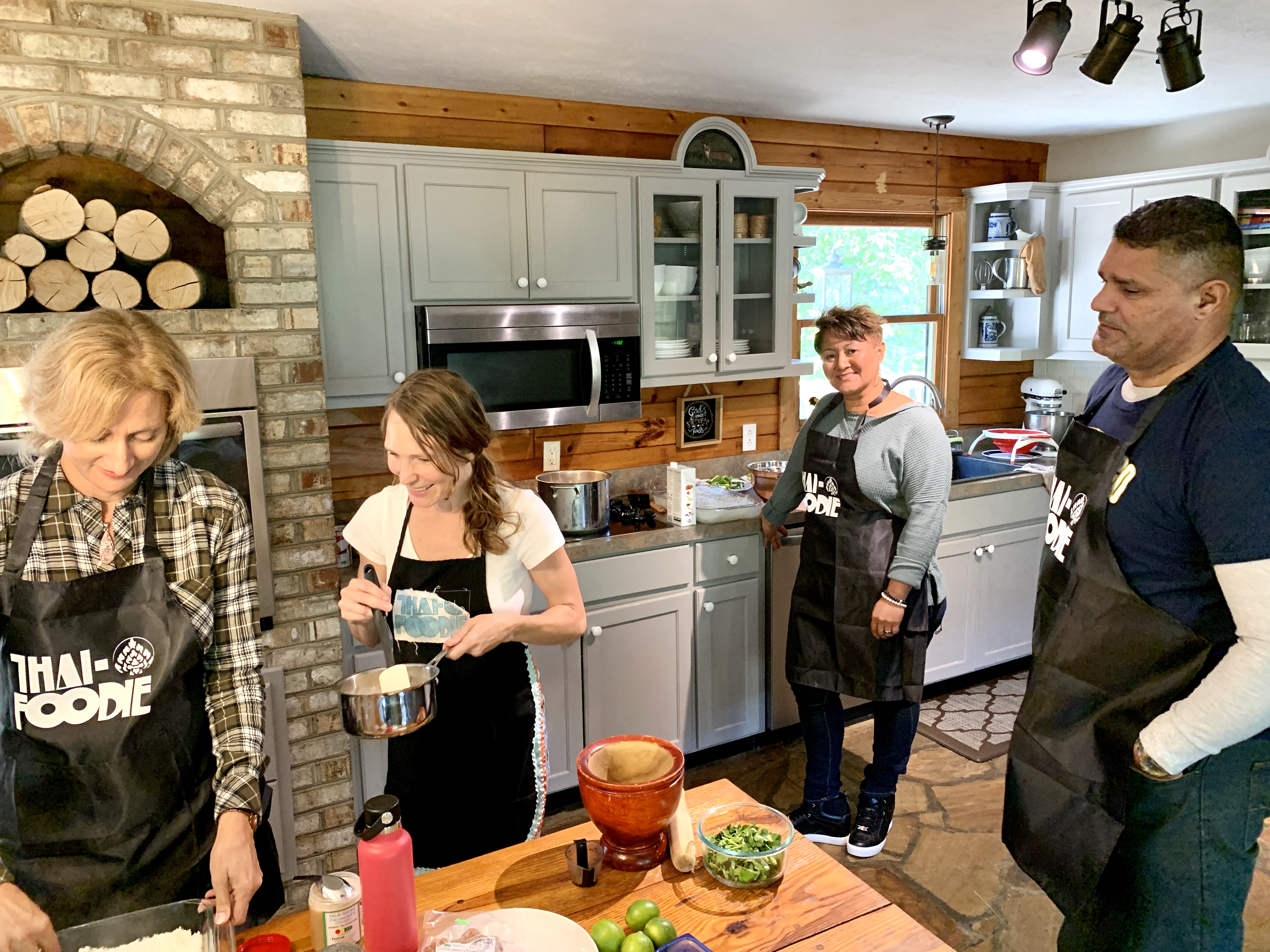 FAQs about the How to Find Thai Ingredients with Confidence Course
Um...can I get a refund?
Yes! Have no fear! 30-day money back guarantee!
I heard you are using the course to raise money for your trip to Thailand. Tell me more!
All the profits from the course and my cooking classes are going to help pay for our family of 6 to go to Thailand this year! We haven't been to Thailand in 5 years (thanks COVID!). Our dream is for my Thai Hubby's 93 year old grandma who raised him to meet her four great-grand kids. Thank you SO much for supporting that dream dear!
Can't I just look up Thai ingredient info on my own?
You sure could, and I did that for years.
Searching for Thai chile paste at an Asian market, while trying to keep my kids calm, who are clambering over each other to look at live lobsters and fish swimming in the very aromatic fish section while also trying to figure out where in the world is this ingredient on all these aisles packed with never before seen ingredients in languages I don't know??
Wrestling my way through Thai cooking websites which were so poorly translated into English it was so hard to understand what the ingredient even was?
Trying to cook a quick Thai dinner, but spending 30 minutes looking up substitutes for Thai ingredients I couldn't find?
It was a long, hard, lonely journey, especially if you are like me who isn't Thai. I wished I had a trusted friend to walk with me the whole time, so that's why I made this course.
I wanted to do this course for you because It's way more fun to learn together with a trusted friend who has been there right?
Yes!!!
Check your inbox to confirm your subscription